The 1974 All-Star Game
Today I figured I'd have a little fun, take a break from The Baseball Project That May or May Not Amount to Anything, and give my own special review of the 1974 Major League Baseball All-Star Game.  This won't be the typical one I've done on other games of the past.  Well, you'll see. . .
First, the rosters for each team:
Starting Lineup
Starting Lineup
AL
Tm
Pos
NL
Tm
Pos
Rod Carew
Min
2B
Pete Rose
Cin
LF
Bert Campaneris
Oak
SS
Joe Morgan
Cin
2B
Reggie Jackson
Oak
RF
Hank Aaron
Atl
RF
Dick Allen
CWS
1B
Johnny Bench
Cin
C
Bobby Murcer
NYY
CF
Jimmy Wynn
LA
CF
Jeff Burroughs
Tex
LF
Steve Garvey
LA
1B
Brooks Robinson
Bal
3B
Ron Cey
LA
3B
Thurman Munson
NYY
C
Larry Bowa
Phi
SS
Gaylor Perry
Cle
P
Andy Messersmith
LA
P
Reserves
Reserves
John Mayberry
KC
1B
Tony Perez
Cin
1B
Carl Yastrzemski
Bos
1B
Dave Cash
Phi
2B
Bobby Grich
Bal
2B
Mike Schmidt
Phi
3B
Cookie Rojas
KC
2B
Jerry Grote
NYM
C
Sal Bando
Oak
3B
Ted Simmons
StL
C
Don Money
Mil
3B
Cesar Cedeno
Hou
CF
Carlton Fisk
Bos
C
Lou Brock
StL
LF
Ed Herrmann
CWS
C
Ralph Garr
Atl
OF
Darrell Porter
KC
C
Johnny Grubb
SD
OF
Jim Sundberg
Tex
C
Reggie Smith
StL
RF
Al Kaline
Det
DH
Don Kessinger
ChC
SS
Frank Robinson
Cal
DH
Chris Speier
SF
SS
George Hendrick
Cle
OF
Ken Brett
Pit
P
Joe Rudi
Oak
OF
Buzz Capra
Atl
P
Dave Chalk
Cal
SS
Steve Carlton
Phi
P
Steve Busby
KC
P
Mike Marshall
LA
P
Mike Cuellar
Bal
P
Jon Matlack
NYM
P
Rollie Fingers
Oak
P
Lynn McGlothen
StL
P
John Hiller
Det
P
Steve Rogers
Mon
P
Catfish Hunter
Oak
P
Luis Tiant
Bos
P
Wilbur Wood
CWS
P
The bold names are the ones in the Hall of Fame.  At Talk Back Fans we like to look back and count them up.  That is 17 total, to go along with Manager Dick Williams for the American League, Yogi Berra for the National League, Earl Weaver and Whitey Herzog are AL coaches, as are Sparky Anderson and Red Schoendienst for the NL.  Not a bad list.  Oh, by the way, Fisk was injured and missed the rest of the year, so Munson replaced him as the starting catcher.  If you know anything about the history of these two guys, you know this had to sit well.
Anyway, Two fun bits to start:
Reggie Jackson thanks the fans for making him the top vote getter and promises to give that extra effort as a "thank you" to the fans.
Gaylord Perry in a pregame interview they are showing as he warms up says that we won't see the "grease ball or spit ball I used to throw"
That was a fun first inning.  No score after one.
The game is in Pittsburgh so Curt Gowdy decides to remind the audience that the Reds players were all booed because there was a brawl between the Pirates and Reds just a week before.  I'm sure it had nothing to do with the May 1 game where Doc Ellis hit Pete Rose, Joe Morgan and Dan Driessen to start the game before walking Tony Perez on four pitches (as Ellis put it "He wouldn't stand still"), then whizzed one behind Johnny Bench before Pirates manager Danny Murtaugh decided that was enough.
Dick Allen showed up 12 minutes before the game started, which if you have learned anything about his past, this should not be a surprise.
Gowdy mentions that there are seven starters in the NL lineup between the Reds and Dodgers and one could see why.  At the break they had the two best records in all of baseball and the Dodgers would beat out the Reds by four games, though the Reds were 10 games better than anyone else in the league.
Steve Garvey got the starting spot via write in votes.  That led to this graphic: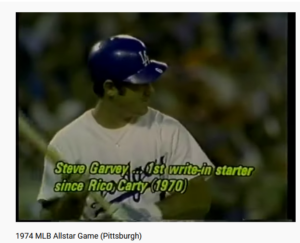 Whew!  Four long years!!!
In the top of the third with Thurmon Munson on third after a double and a Gaylord Perry bunt, Rod Carew comes to the plate and they show an answer he had for Tony Kubek about his chances of hitting .400.  He says that if he's hitting around .380 come September, he believes that he could get there because he hits better later than in the first half.  I say B.S.
First, he was hitting .382 at the break.  If he kept his pace of at-bats up he would have had to go 104 for 274 the rest of the way, a .431 clip.  Second, he had one homerun and 37 strikeouts at the break.  The 37 strikeouts are great, but this also means that his batting average on balls in play was an astounding .422, which is borderline impossible to keep up.  When Ted Williams hit .406 he had 37 homeruns and struck out only 27 times, so his average on balls in play was .379.  Carew would have needed 247 hits at his pace; Ted had 185.  Speaking of Ted Williams, Gowdy mentions that he asked Williams if anyone can hit .400 and Williams said, "Somebody that can run, bunt, and slap the ball around and stay free of injury."  I don't see that.
Johnny Bench of all players is charged with a throwing error, the first time the NL had committed an error in 11 games.
Ralph Garr, who was leading the NL in total bases and batting average at the break, was responding to why he has been successful and concludes with "I just want to keep making good contact." As the clip is finishing he swings and misses for a strikeout, which leads Gowdy to say, "Well, Ralph, you didn't make any contact there."  That was funny.
Ken Brett, the Pirates' lone representative, is on the mound.  We know of his younger brother, George, but Ken was no slouch of a player.  In 1970 he averaged 10.0 strikeouts per nine innings, becoming just the fifth pitcher to do so.  To give you a sense of perspective, the five of the six starting pitchers to throw 100 innings for the 2017 Cleveland Indians cleared 10.0 K/9, and as a team they averaged 10.1.  Tells you how much the game has changed.
Al Kaline is mentioned as closing in on 3,000 hits just 58 more hits, which would make him the first American League player to do so since 1925.  Remember when the two leagues were separate?  Anyway, he got 65 more hits in the second half to finish his amazing career with 3,007.
Awesome!! It's Jack Webb, TV's Joe Friday promoting National City Travelers Checks!!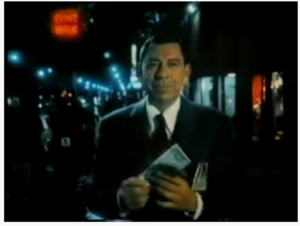 Now, I knew that he died relatively young, so I went to look it up.  He died in 1982 at the age of 62.  But you know what else I found out?  He was approached to be Dean Wormer in "Animal House" but turned it down because "the movie didn't make any damn sense."  Can you imagine him as Dean Wormer?
Yogi decides to pinch hit for Ken Brett, much to the disappointment of the Pittsburgh faithful.  And I must say it could have been interesting.  In 1973 he homered in four straight starts, and at the 1974 break he was hitting .308/.343/.492 with 2 homers and 7 total extra base hits.  To put it into perspective his .835 is 203 points higher than NL starting shortstop Larry Bowa's.
Now we have a commercial for the old Chrysler Scamp.  One, the song is a take on "Lady is a Tramp".  Two, this is supposedly a small car.  Again how times have changed: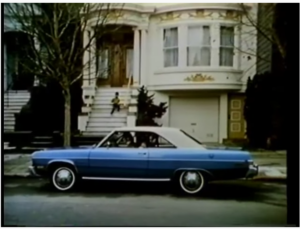 Here is a young Cesar Cedeno in his Astros uniform.  I like this one better than their 80's one: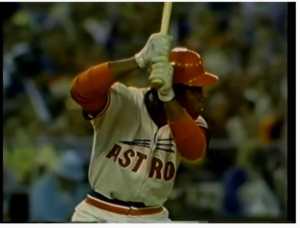 Here's a beauty for Gillette Dry Look.  Look what it can do for you!!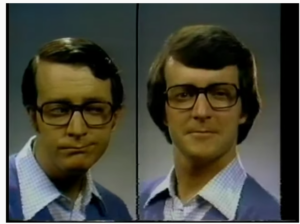 I can sense the confidence.  Also, here's the next commercial also from Gillette!!  It for Gillette Foamy, but it's apparently an Amish commercial.  Also, Live from New York, it's Saturday Night!!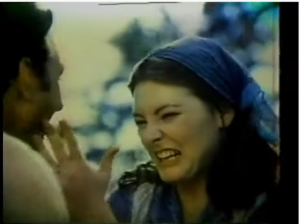 Jane Curtin, everybody!!
Frank Robinson comes up to bat at 38 years old.  Joe Garigiola mentions that earlier Hank Aaron was asked if he would take the Braves managerial job (Eddie Mathews was canned earlier) and he said that he would because there was not black manager in baseball.  Now Garigiola brings up that Aaron flat out said that he believed that Frank Robinson should have gotten the Angels job and how that will stir things up in the press the next day.  Well, we all know what happened.
They just showed a McDonald's commercial, where you could get a cheeseburger, regular fries, and a regular coke for under a dollar.  How times have changed.
Reggie Smith just blasted one off of Catfish Hunter.  Reggie Smith was a fantastic ballplayer, who like Steve Carlton and Dennis Eckersley, was traded for Rick Wise.
Hey, it's the Mac Davis Show!!!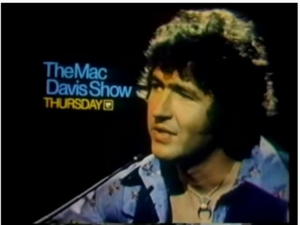 And I thought he peaked with "North Dallas Forty".  What do I know?
Mike Marshall is on the mound now.  This season he would go on to throw a major league record 208.1 innings in relief, but my favorite stat is that, him being a mathematician, has a career ERA of pi, 3.14.
For a bit of a sentimental moment, here are childhood friends Joe Garigiola and Yogi Berra: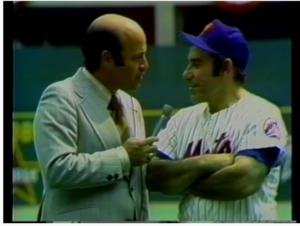 The Cardinals signed Garigiola and passed over Yogi.  Yogi signed with the Yankees.  Funny how things work out . . .
While looking for the voting process for the 1974 All-Star Game I found this gem via Baseball Almanac:

It is stunning how he found a way to start five pitchers all at once.
Don Rickles promoting Right Guard.  Listen up, you hockey puck!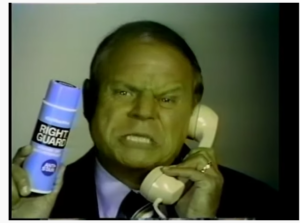 What does that insult even mean?  Look, I was born in 1977, so this is a bit foreign to me, and I'm really good at looking up dated references.  If you know, contact on the site or our Facebook page.  Thanks in advance.
And finally, this advanced piece of technology from Quasar was giving you a better quality color picture on your television: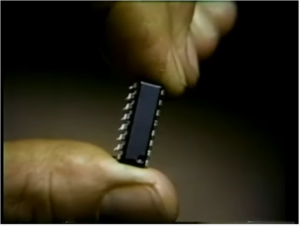 And that concludes this coverage of the 1974 All-Star Game.  Tune in next time . . .
(Oh, the National League won, 7-2, and Steve Garvey was the game's MVP)